Access for Whitewater Rafting on the North Fork Stanislaus
The shuttle routes and logistics for the North Fork Stanislaus are remarkably easy. The put-in and take-out areas for whitewater rafting are in close proximity to Calaveras Big Trees State Park. The put-in is at Sourgrass Bridge. You can take out at the bridge just below Lower Sequoia Sluice or you can boat another quarter mile to a beach on the right. The Shuttle is approximately 18 miles one way and takes about an hour.
Sourgrass Bridge Put-in:
Head east from Angel's Camp on Highway 4 to Boards Crossing Road in Dorrington. It's your second right-hand turn past the entrance to Calaveras Big Trees State Park, (about 4 miles past the Park entrance). Drive a bit and you will come to a Y in the road, stay left and follow Boards Crossing down to the river. The Put in is just down stream of the bridge. The rapid under the bridge may look tempting but it is highly inadvisable. This rapid was changed by a huge mudslide in 1997.

Calaveras Big Trees State Park River Picnic Area & Take-out: To reach take-out, drive east from Angel's Camp about 18 miles to Avery. Leave highway 4, turning right on Moran Road. Proceed 1 mile to Love Creek Road, turn right, and cross a creek. Continue 4 miles to a Y intersection and take the right fork of the Y, which switchbacks immediately and climbs a half mile to a 4-way intersection on a ridge. Go straight on road 5N35, which drops steeply for a half mile to the river. You might need to open a gate on this road. This is a Four Wheel Drive road and such vehicles are recommended during muddy conditions. To get to the beach, continue past Moran Rd and go through the entrance of Calaveras Big Trees State Park. Follow the road down to the river.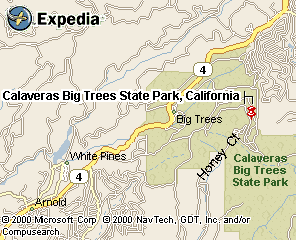 maps.expedia.com